Minor Accident Release & Relief Experience
Aid Recovery from the effects of slips, trips & falls
Myofascial Release (MFR) can provide invaluable assistance during your recovery from:
Fractures
Sprains
Strains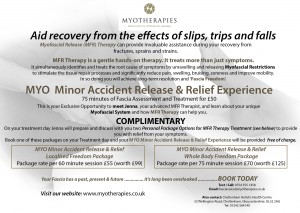 Click / Tap to enlarge image.
On your Initial Treatment day Jenna will prepare and discuss with you your Personal Package of MFR Therapy Treatments that will provide you with relief from your symptoms.
Book this package on your Initial Treatment day and your MYO Accident Release & Relief Experience will be provided free of charge.
Book Today – Call +44(0) 7545 551458
Email: fasciavoice@myotherapies.co.uk
Or you can book through:
Cheltenham Holistic Health Centre
32 Wellington Road, Cheltenham, Gloucestershire.
GL52 2AG
Tel: 01242 584140