MYO Release & Unwind Experience
Why wait until your holiday to Unwind ?
Myofascial Release (MFR) Treatment & Movement Therapy can provide you with relief from :
Trauma
Aches
Pains
Muscle Tension
Injuries
Dysfunction
Reduced Mobility
Instability
Poor Co-Ordination
Poor Posture
Head Aches
Emotional/ Stress Issues
Lethargy
Insomnia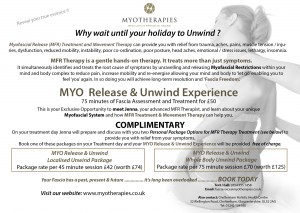 Click / Tap on Image to enlarge.
On your Initial Treatment day Jenna will prepare and discuss with you two Personal Package Options for MFR Therapy Treatments to provide you with relief from your symptoms.
Book one of these packages on your Treatment day and your MYO Release & Unwind Experience will be provided free of charge.
Book Today – Call
+44(0) 7545 551458
Email: fasciavoice@myotherapies.co.uk
Or you can book through:
Cheltenham Holistic Health Centre
32 Wellington Road, Cheltenham, Gloucestershire.
GL52 2AG
Tel: 01242 584140