MYO Post-Holiday Rebounding & Re-Alignment Experience
Extend that holiday feeling
Myofascial Release (MFR) Therapy can help you:
Retain that relaxed, refreshed mind & body feeling
Adopt a new-found awareness
Help you manage & maintain a balance in your everyday life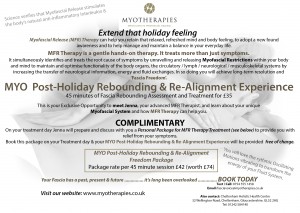 Click / Tap on image to enlarge.
On your Initial Treatment day Jenna will prepare and discuss with you your Personal Package of MFR Therapy Treatments that will provide you with relief from your symptoms.
Book this package on your Initial Treatment day and your MYO Post-Holiday Rebounding & Alignment Experience will be provided free of charge.
Book Today – Call +44(0) 7545 551458
Email: fasciavoice@myotherapies.co.uk
Or you can book through:
Cheltenham Holistic Health Centre
32 Wellington Road, Cheltenham, Gloucestershire.
GL52 2AG
Tel: 01242 584140